SENIOR FOOD TOTES PROGRAM
Provides a tote of food every month to more than 1,600 low-income senior citizens. The tote provides a supplement to the seniors' normal purchases in an effort to ensure they receive foods of high nutritional value. The GBFB delivers the totes to more than 80 senior living centers throughout Berks and Schuylkill Counties.
If you are 60 years of age or older and want to see if you are income eligible for this program, please refer to these income guidelines. If you are income eligible, please call the Greater Berks Food Bank's Agency Services Coordinator, at 610-926-5802 ext. 207, to inquire about receiving an application to participate in this program.
* Please note – the GBFB is allotted a specific amount of totes to distribute monthly. This program typically has a wait list. It may take several months until you begin receiving a tote following completion of the application.
Read the USDA Non-Discrimination Statement here.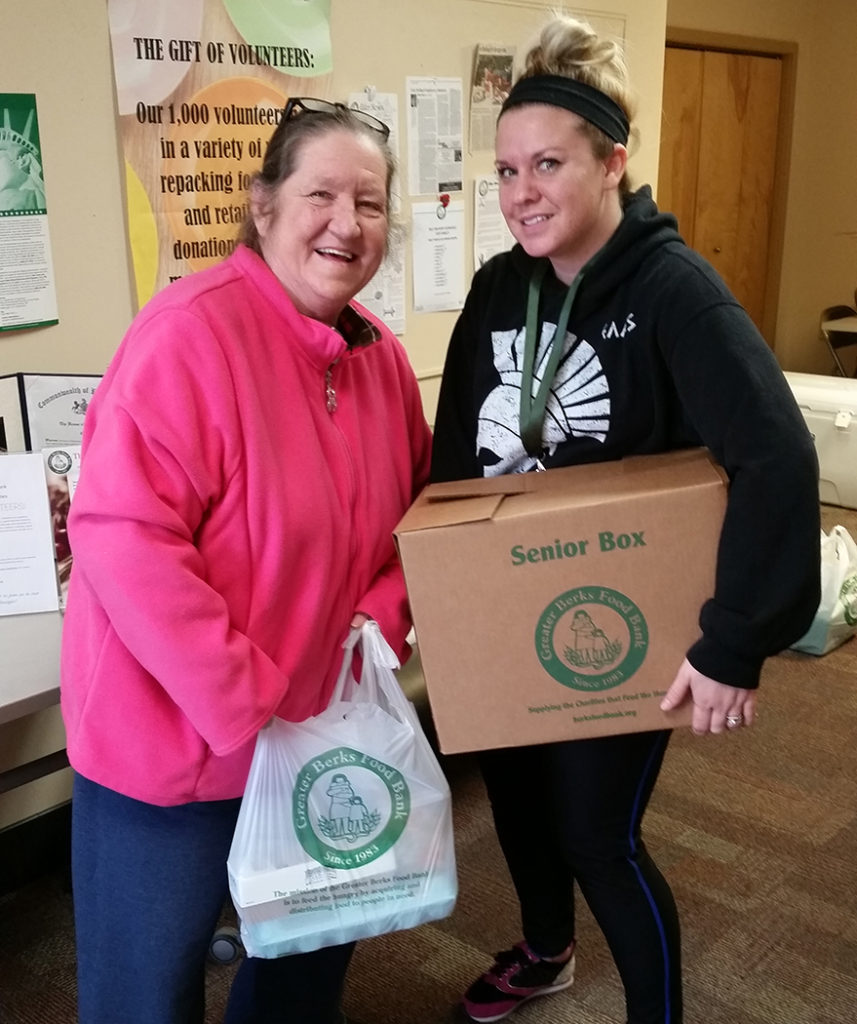 Senior Food Tote Delivery Sites
Ashland High Rise – Ashland
Centre Street Court Apartments – Ashland
Brooke Estates  – Birdsboro
Fleetwood Area Pantry – CSFP  – Blandon
Boyertown Salvation Army – CSFP  – Boyertown
Coaldale Family Development – Coaldale
Colonial Square Apartments – Coaldale
St. Paul's UCC – CSFP  – Douglassville
High Point Manor  – Frackville
Girardville Towers  – Girardville
Berks Encore Hamburg – Hamburg
Wyndcliffe Apartments  – Hamburg
Saucony Cross Apartments – Kutztown
Saucony Meadows Apartments – Kutztown
Wilson Manor  – Kutztown
Schuylkill Valley Pastor's Assn – CSFP – Leesport
Southgate Apartments – Leesport
Mahanoy Elderly – Mahanoy City
Minersville Family Development – Minersville
Minersville High Rise Apartments – Minersville
Trinity UCC – In His Name – CSFP – Mt Penn
Arch Street – Pottsville
Fairmont Street – Pottsville
John O'Hara Apartments – Pottsville
Laurel Court – Pottsville
Laurel Terrace – Pottsville
Market Square Apartments Schuylkill – Pottsville
Michael Close Apartments – Pottsville
Necho Allen – Pottsville
Patterson Apartments – Pottsville
Peacock Apartments – Pottsville
Pottsville Nutrition Center – Pottsville
Pottsville Salvation Army – CSFP – Pottsville
Queen of Peace Apartments – Pottsville
Bethel AME – CSFP – Reading
B'nai B'rith Apartments – Reading
Bookbindery – Reading
Calvary Community Center – CSFP – Reading
CSFP-Direct Distribution – Reading
Episcopal House of Reading – Reading
Family First Resource Center – CSFP – Reading
Franklin Apartments – Reading
Hensler Homes – Reading
Hispanic Center – Reading
Holy Spirit Lutheran Church-CSFP – Reading
Hubert Apartments – Reading
Hugh Carsella Apartments – Reading
Jamestown Village – Reading
Kennedy Towers – Reading
LAC Helping Hands – CSFP – Reading
LIHTC Preservation Partners – Reading
Lincoln Residences – Reading
Market Square Apartments Associates – Reading
North 6th Street Church of God – CSFP – Reading
Oakshire Apartments – Reading
Providence House – Reading
Queen of Angels – Reading
Reading Elderly Housing – Reading
Rhodes Apartments – Reading
St. Paul's Lutheran Church – CSFP – Reading
Bethel Tulpehocken – CSFP – Rehrersburg
Ringtown Food Pantry – CSFP – Ringtown
Conrad Weiser Food Pantry – CSFP – Robesonia
Schuylkill Haven Area Food Pantry – CSFP – Schuylkill Haven
Schuylkill Haven Family Development – Schuylkill Haven
Schuylkill Haven High Rise Apartments – Schuylkill Haven
Shenandoah Family Development – Shenandoah
Shenandoah Food Pantry – CSFP – Shenandoah
Shenandoah High Rise – Shenandoah
Shenandoah Village – Shenandoah
Berks Encore Mifflin- CSFP – Shillington
Sencit Towne House Apartments – Shillington
St Clair Family Development – St Clair
Neumann Apartments – St. Clair
Laurel Run Commons – Tamaqua
Tamaqua High Rise – Tamaqua
Hampden Heights SDA – CSFP – Temple
Tremont Nutrition Center – Tremont
Berks Encore Wernersville – CSFP – Wernersville
Penn's Crossing – West Lawn
Wilson Food Pantry – CSFP – West Lawn
Henner Apartments – Womelsdorf