DONATE
The Greater Berks Food Bank depends on monetary and food donations in order to end hunger in our community. Your generosity allows us to feed more than 110,000 people every year.
$1 donation = $20 worth of food
Donate Money
Donations received from individuals and corporations, like you, allow us to expand our mission to reach under served populations and locations. For every $1 you donate, we are able to acquire $20 worth of food.
Ways You Can Donate Money:
Donate Now
You can make a one-time donation (or set up a recurring donation) online
Donate Now
Or You can become a monthly donor and have the GBFB directly bill your credit card here.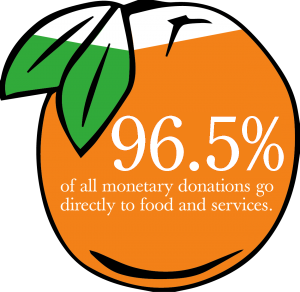 Donate by Mail or Phone
Mail your check with this completed Downloadable Form to:
Greater Berks Food Bank
117 Morgan Drive
Reading, PA 19608
Donate by phone with your credit card: 610-926-5802 extension 209
In Honor or Memory
You can make a gift in honor or memory of someone (we will send an acknowledgement letter to the honoree or a memorial letter to the family). To make a gift, either complete the acknowledgement information while making an online donation or click here and complete the acknowledgement information on the form and mail or fax to the Greater Berks Food Bank.
Make a Bequest
You can include a bequest to the Greater Berks Food Bank in your estate plans. Please review our planned giving brochure to learn more about available options.
Matching Gifts

You can double, and possibly even triple, your donation to the Greater Berks Food Bank if the company you work for matches donations made by employees (and in many instances retirees as well) to charitable organizations. To find out if your company matches charitable gifts, contact your company's human resources department. If they do match gifts, ask your human resources personnel for the matching gifts form and mail the completed form with your donation to the above address.
When you give to the Greater Berks Food Bank, you can be confident your gift is going to make a difference in feeding our hungry neighbors in Berks and Schuylkill Counties.
The Greater Berks Food Bank is a registered 501(c)(3) tax exempt charitable organization. Federal ID: 22-2456238.

The Greater Berks Food Bank's most recent published IRS Form 990 can be viewed by clicking here. The Food Bank's most recent audited financials can be viewed by clicking here. 
The Greater Berks Food Bank's Annual Report for  2017.

The Greater Berks Food Bank does not sell or share donor information with any other organizations. Donors' credit card information is not kept on file unless a donor opts in to a monthly donation program to be processed by the GBFB. All donors' mailing addresses are kept on file so donors can receive future newsletters, event invites, and appeals. Any donor can opt to be removed from the mass mailing list. Donors who donate a minimum of $50 to our annual World Food Day Breakfast are listed as sponsors in the event's program. If a donor wishes for their donation to remain anonymous they can designate so at time of donation.

A copy of the official registration and financial information of the Greater Berks Food Bank may be obtained from the Pennsylvania Department of State by calling toll-free within Pennsylvania 1-800-732-0999. Registration does not imply endorsement.
7 million pounds of food
Donate Food
Food donations to the Greater Berks Food Bank make it possible for us to distribute more than 7 million pounds of food annually to the 300 charitable food programs within our network.
 The Greater Berks Food Bank seeks food donations from:
Individuals, companies, schools and organizations holding food drives. Download our food drive manual here
Food manufacturers, distributors and retail stores with surplus and imperfect, yet edible, product
Farmers (and home gardeners) with excess harvest
Call 610-926-5802 ext. 212 for more information or to schedule a donation drop-off.
Food banks and their donors are protected from the liability under the Bill Emerson Good Samaritan Act passed by Congress in 1996.

All food donors will receive a letter acknowledging their donation which can be used for tax purposes. Donations may offer tax benefits as allowed by law.